Food Traditions
❊ ❋❊ ❋❊ ❋❊ ❋❊ ❋❊ ❋❊ ❋❊ ❋❊ ❋❊ ❋❊ ❋❊ ❋❊ ❋❊ ❋❊ ❋❊ ❋❊ ❋❊ ❋❊ ❋❊ ❋❊ ❋❊ ❋❊ ❋❊ ❋ ❊ ❋ ❊ ❋ ❊ ❋ ❊ ❋❊ ❋❊
Mushrooms are an important component of Ukrainian traditional foodways. These wooden mushrooms are used for decoration, and were donated by Kay Dilney. This cabbage shredder was donated by Steve Zwarun and used by his family from Glace Bay, for making sauerkraut. It is in its original form, from the early 1900s, except for the box slider, which has recently built replaced. Such implements were a common part of Ukrainian and other Central and Eastern European family homes, since cabbage and sauerkraut are a main component in traditional foodways. Many Ukrainian families in Cape Breton, as in other parts of North America, have purchased dishes embossed with a Ukrainian design from crafters in Ontario and Winnipeg. It is an expression of their Ukrainian heritage. These dishes are part of a larger set purchased by Patricia and Steve Magis from a crafter in Ontario. The Magis family uses these dishes on special occasions, such as Christmas. Patricia Magis says that, at their Christmas dinner, slices of turkey are served alongside traditional Ukrainian cabbage rolls. The open Ukrainian baking recipe book was printed in Philadelphia in 1969, and the closed "English- Ukrainian Cookbook"  on top was printed in Winnipeg (no date provided) and also contains a section of home remedies. This "Domestic Physician and Health Guide" was printed in 1923 in the USA. It was originally owned by Onufryj Yuryk who lived at 30 Henry Street in Whitney Pier. Many such domestic health guides have been found in the homes of Ukrainian immigrants and their descendants. This book is from the Beaton Institute Collections.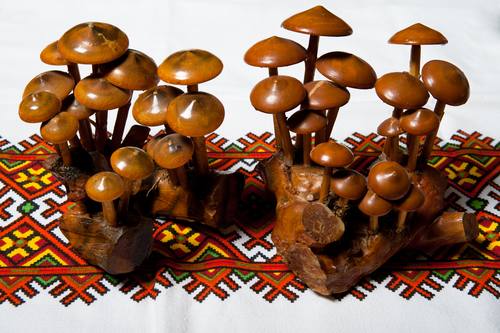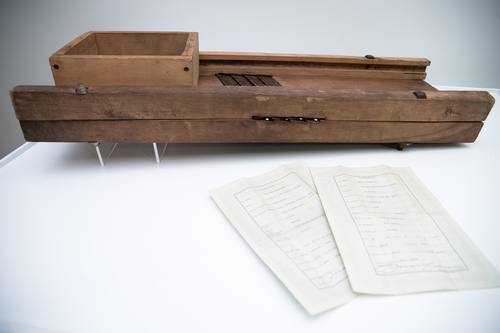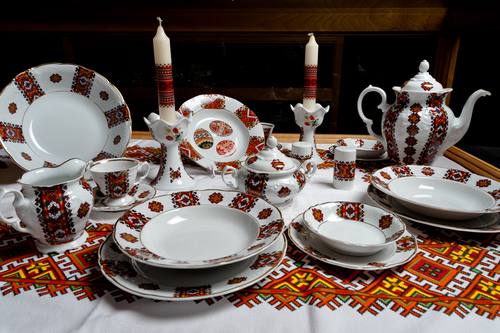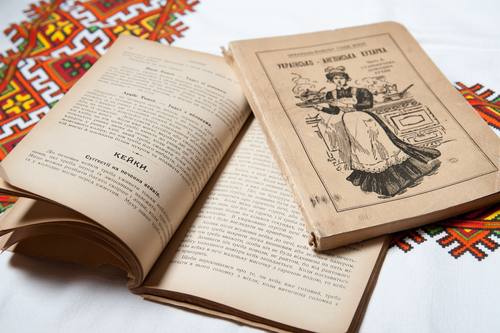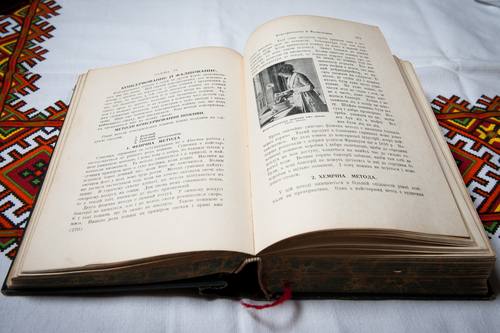 Rose Best
words about the Ukrainian mushroom-picking tradition
Mushrooms:  Pidpenyok (Ukrainian) / Many cap clitocybe
My mother, Mary Best (née Goszek), through a labour of love, has kept the art of mushroom-gathering alive in our family. She has been picking mushrooms her whole life, and learned the tradition with her mother, Catherine. The tradition was then passed down to her children, myself included, and then also to her grandchildren, especially Emilie Best. They began gathering mushrooms in Sydney River at Seven-Mile Bridge and around Blackett's Lake area.
These mushrooms are on our menu during every Ukrainian holiday. We used to pick two different types, called pidpenyok and herobet, but now we only harvest the one type of mushroom, pidpenyok. Usually, we find them growing around the base of a tree and in the mosses. Our family, three generations, leaves early in the morning with our wooden baskets. These baskets are the second set, and have been used by our family for over 40 years, since my Baba passed away in 1959.
One of our favourite spots is in the French Vale area of Cape Breton. When we reach one of our secret spots, we begin searching for the delicious mushrooms that we love. If the picking is good, we can usually fill up to six baskets over a two-day period.  After we finish gathering, we go home and begin cleaning the mushrooms, which takes several hours. Then they are preserved in various ways:  dehydration, cooking and freezing. The dehydration process has changed since Baba's time. Back then we sat with a needle and thread and used to string and hang them over the wood stove to dry, which took about two days. Today, we have an electric dehydrator, which takes about twelve hours. Through this process they will last forever, so long as they remain dry. Then they can be soaked, cooked and used with whatever dishes you wish to put them in. Cooking and freezing entails placing the mushrooms in an enamel, not steel, pot with pickling salt, garlic, and onions. After they are cooked, they are drained and put into freezing bags or sealed containers. In the old days they would be canned after cooking, a method not used as much today. They are then taken out of the freezer and defrosted before adding to your favourite dishes.
A basket of mushrooms equals about twelve quarts, but after cooking them you are only left with about 4 litres. Some of our favourite dishes to put mushrooms in are homemade mushroom soup (with burnt flour), brown gravy and mushrooms (use it over roast/pahtaha and quiche), stuffed mushrooms, smothered mushrooms (served over meat or holubtsi/cabbage rolls).
❊ ❋❊ ❋❊ ❋❊ ❋❊ ❋❊ ❋❊ ❋❊ ❋❊ ❋❊ ❋❊ ❋❊ ❋❊ ❋❊ ❋❊ ❋❊ ❋❊ ❋❊ ❋❊ ❋❊ ❋❊ ❋❊ ❋❊ ❋❊ ❋ ❊ ❋ ❊ ❋ ❊ ❋❊ ❋❊ ❋❊
Smothered Mushrooms
In a frying pan, put 2 tablespoons butter, a chopped medium onion, salt and pepper to taste and 2 cups mushrooms, and sauté them over medium heat.
Brown Gravy and Mushrooms
Use the Smothered Mushroom recipe above and any meat drippings of your choice (pork or beef), then add your favourite gravy mix; thicken and serve over potatoes or holubtsi/cabbage rolls or create a hot meat sandwich.
Stuffed Mushrooms
Pick out ten of the largest mushroom caps and cut out the stems (keep them for later), and in a separate bowl add salt and pepper, 1/4 cup chopped onion, parsley and thyme, 2 tablespoons/2 cloves chopped garlic, 1/4cup bread crumbs and the reserved stems. Moisten with egg yolk (not the whole egg, you can use the boxed kind) and a teaspoon of olive oil. Hollow out the mushroom caps further after the removal of stems; brush the outside with melted butter and fill them with the stem stuffing. Broil at 400 degrees for 3 to 5 minutes. If you wish, you can also add mozzarella or havarti cheese to the top.
Homemade Mushroom Soup
In a 2 quart pot:  1 large onion, 2 tablespoons oil, 1 cup carrots (coin-cut, 1-1/2 cups cubed potatoes, parsley, 1 teaspoon thyme, 3 tablespoons minced garlic, salt and pepper, ½ cup flour, and 1-1/2 cups of mushrooms. Sauté the onion and mushrooms in the oil and then add the garlic; simmer on low.  Add carrots, potatoes, 6 cups water (or half-water, half-milk) and sauté the mix. Cook on medium heat until vegetables are cooked, about 20 minutes. Set aside the soup and turn it down low. In a frying pan, add a half-cup of flour. Over medium heat whisk flour constantly (do not leave the stove, flour can blow up) until it is toasted and light brown in colour. Carefully and slowly whisk together small amounts of water into the flour until it becomes a thick paste. Turn the heat off,  and whisk the paste into the soup. Let simmer on low heat for 15 minutes.
. . . and another Ukrainian tradition:  Pysanky
In our family, we also decorate pysanky:  Ukrainian Easter eggs. Red dye comes from beet skins; onion skins can be boiled down to get a brown color; tea bags can also be a good source of dye.
- Rose Best, October 2011
❊ ❋❊ ❋❊ ❋❊ ❋❊ ❋❊ ❋❊ ❋❊ ❋❊ ❋❊ ❋❊ ❋❊ ❋❊ ❋❊ ❋❊ ❋❊ ❋❊ ❋❊ ❋❊ ❋❊ ❋❊ ❋❊ ❋❊ ❋❊ ❋ ❊ ❋ ❊ ❋ ❊ ❋❊ ❋❊ ❋❊