About the Logo
A word about the logo from The Word & Image Studio • www.wordandimage.ca
This logo gathers into a bouquet symbols that resonate powerfully with the ethnic groups it represents.
Leaving their homeland in hopes of more than mere survival but a better life that included not only mere survival, but also freedom of cultural expression, Eastern and Central Europeans traversed rough waters and great trials, finally coming to come ashore at last on Cape Breton Island. It may not have been an easy existence from at the outset, but they did their best, finding work, building new lives and adding the unique flavours of their heritage to the island's growing community.  
The newcomers' legacies endure.  Many of their descendants have remained in the region, where they have ~ in some ways ~ That is in the past.
They are still there today, generations along, in some ways integrated into the island.  I while in other ways ~ through music, dance and faith ~ they have remained quite distinct.
The aim of this design is to unite meaningful disparate elements into a cohesive contemporary image conveying specific cultural traditions.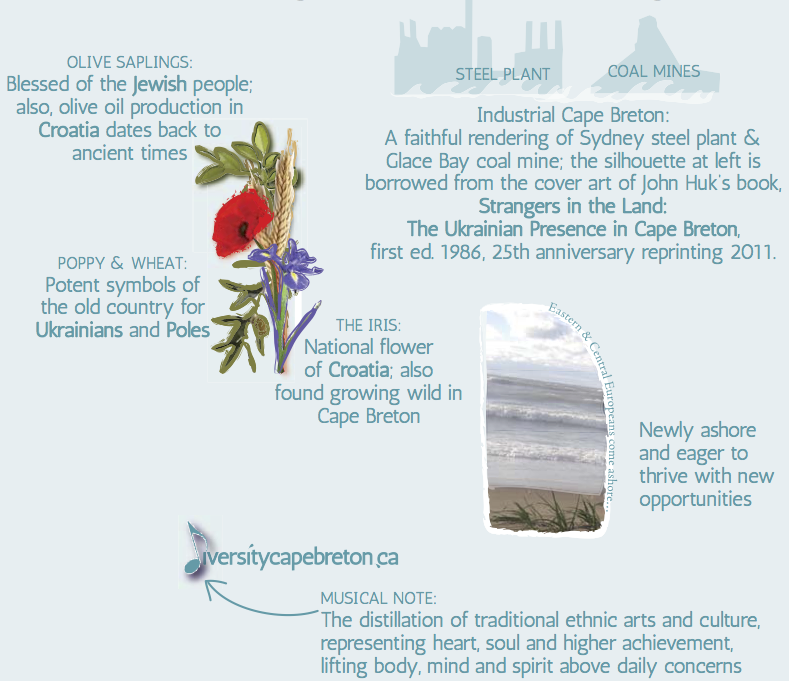 My father, Pavlo Romanovich Yavorsky, joined Cape Breton Island's Ukrainian community in the 1930s, staying several years to teach Ukrainian dance and involve both youth and adults in music, literature and other Ukrainian cultural activities. Born in Saskatchewan, the beauty of Senkiv, Ukraine was nevertheless vivid in his imagination, from his mother's songs and stories of her homeland. In his memoirs*, he celebrated his heritage with these words:
"We brought valuable treasure: Ukrainian dance, the word of Shevchenko and the songs of the native land into every corner of Canada. Ukrainian folk dance . . . the treasure of Ukrainian embroidery . . ."
Such words speak of intrinsic beliefs and emotional ties that reach back across generations and beyond geographic boundaries. When my father finally came to Montréal to settle, marry Leontina Pidwysotska and raise a family, the longheld traditions and truths of my parents' ancestors were the foundation upon which our lives were structured, even while inhabiting a neighbourhood consisting of mostly other nationalities. For my sister, brother and I, there were, admittedly, difficulties associated with being of Ukrainian background, not necessarily "celebrated" at or outside of school . . . but we lived in a metropolitan city and grew up under a roof where the world view was inclusive: our mother led by example in her acceptance of others, and our father worked at Canada Customs & Immigration and delighted in regaling us with friendly moments shared and interesting facts learned from his daily encounters with his "cousins," as he called them, from other lands.
All cultures have treasure to share: so it is for each of the diverse cultures whose artistic contributions are acknowledged with the creation of this web portal which declares its intentions of future expansion in its name: "diversitycapebreton.ca".
I am pleased to participate in this endeavour — focusing appreciative attention on Cape Breton's finely woven multicultural fabric — at the invitation of Dr. Marcia Ostashewski. 
~ Darene Roma Yavorsky, The Word & Image Studio
* 'Starymy Stezhkamy,' memoirs of Pavlo Romanovich Yavorsky; published in Ternopil, Ukraine 1993; translated by Dr. D. A. Yavorska; quoted in "Show Them What You Can Do" ~ Building the Ukrainian Spirit Across Canada: An Illustrated Biography of Pavlo Romanovich Yavorsky, Darene Roma Yavorsky and Dr. Donna Anna Yavorska, The Word & Image Studio, 2007