Pysanky
➺➺➺➺➺➺➺➺➺➺➺➺➺➺➺➺➺➺➺➺➺➺➺➺➺➺➺➺➺➺➺➺➺➺➺➺➺➺➺➺➺➺➺➺➺➺➺➺➺➺➺➺➺➺➺➺➺➺➺➺➺➺➺➺➺➺➺
⌘⌘⌘⌘⌘⌘⌘⌘⌘⌘⌘⌘⌘⌘⌘⌘⌘⌘⌘⌘⌘⌘⌘⌘⌘⌘⌘⌘⌘⌘⌘⌘⌘⌘⌘⌘⌘⌘⌘⌘⌘⌘⌘⌘⌘⌘⌘⌘⌘⌘⌘⌘⌘⌘⌘⌘⌘⌘⌘⌘⌘⌘⌘⌘⌘⌘⌘⌘⌘⌘⌘
➺➺➺➺➺➺➺➺➺➺➺➺➺➺➺➺➺➺➺➺➺➺➺➺➺➺➺➺➺➺➺➺➺➺➺➺➺➺➺➺➺➺➺➺➺➺➺➺➺➺➺➺➺➺➺➺➺➺➺➺➺➺➺➺➺➺➺
Pysanky: Egg Decorating
A pysanka is an egg decorated according to Ukrainian tradition. The process typically involves dying the eggs in increasingly darker colours. At each colour stage, a pattern is sealed  or "written" with beeswax that is delivered through a specialized stylus called a kistka. The stylus is kept hot by repeatedly heating it over a candle flame.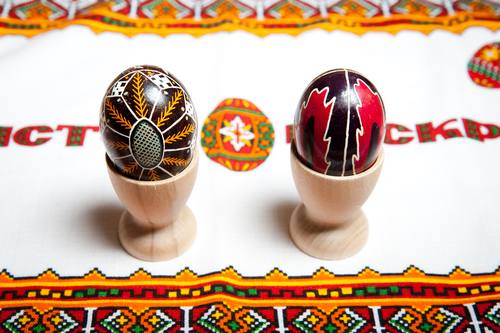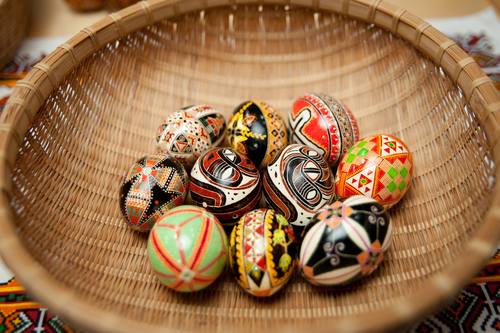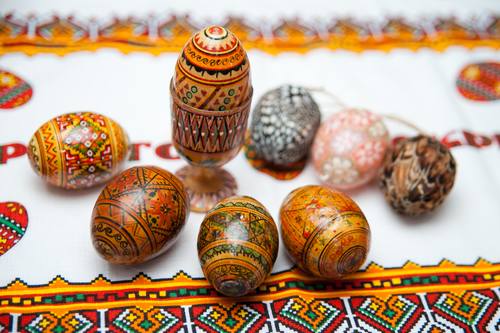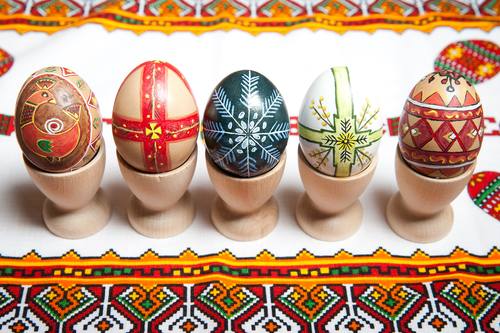 The two traditionally-decorated eggs in the top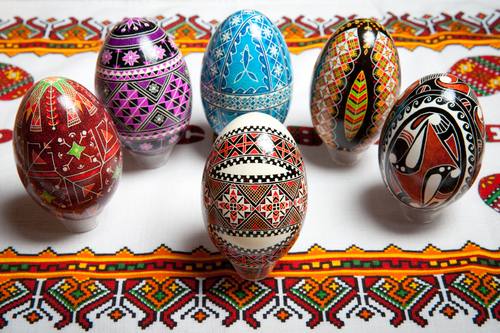 left photograph were made by Fr. Roman Dusanowskyj. A tradition of painting wooden "eggs" is also a long-time practice in Ukraine. These wooden eggs, and the novelty feather-covered and wax eggs belong to Fr. Roman Dusanowskyj, current parish priest of the Holy Ghost Ukrainian Catholic Parish, top right photograph. Two groups of pysanka, the chicken eggs in the small basket (top center photograph) and the six larger goose eggs standing upright (center right photograph) are made by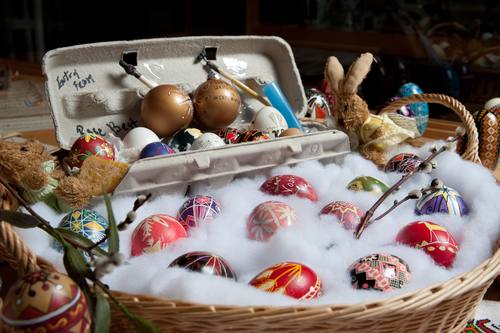 Peter Fedorowych of Whitney Pier.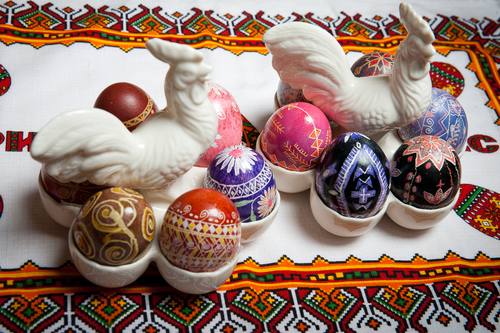 A group of pysanky has been made by Rose Best of Whitney Pier, including those in the rooster ceramic egg holders (bottom left photograph). Some of Rose's novelty items include: hand-painted eggs in the wooden egg cups (center left photograph) and in the large basket display Christmas ornaments painted with pysanka designs (bottom right photograph. In the large basket, she has included some eggs at various stages of writing in their original white shell, along with her tools.
➺➺➺➺➺➺➺➺➺➺➺➺➺➺➺➺➺➺➺➺➺➺➺➺➺➺➺➺➺➺➺➺➺➺➺➺➺➺➺➺➺➺➺➺➺➺➺➺➺➺➺➺➺➺➺➺➺➺➺➺➺➺➺➺➺➺➺
⌘⌘⌘⌘⌘⌘⌘⌘⌘⌘⌘⌘⌘⌘⌘⌘⌘⌘⌘⌘⌘⌘⌘⌘⌘⌘⌘⌘⌘⌘⌘⌘⌘⌘⌘⌘⌘⌘⌘⌘⌘⌘⌘⌘⌘⌘⌘⌘⌘⌘⌘⌘⌘⌘⌘⌘⌘⌘⌘⌘⌘⌘⌘⌘⌘⌘⌘⌘⌘⌘⌘
➺➺➺➺➺➺➺➺➺➺➺➺➺➺➺➺➺➺➺➺➺➺➺➺➺➺➺➺➺➺➺➺➺➺➺➺➺➺➺➺➺➺➺➺➺➺➺➺➺➺➺➺➺➺➺➺➺➺➺➺➺➺➺➺➺➺➺